Community Shredding Events support local communities and protect individuals from Identity Theft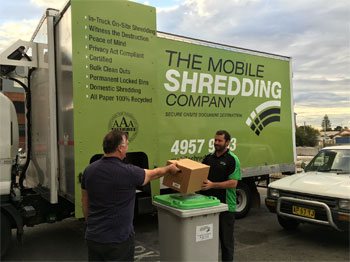 Consumer fraud and identity theft are becoming an epidemic. To raise awareness and to promote prevention, The Mobile Shredding Company supports events, which offer paper shredding services for individuals (limit 2 boxes per person).
These Community Shredding Events give individuals the opportunity to have their confidential documents destroyed on site for a donation to a local school or charity. At these events, documents that are no longer needed and personal papers that need to be safely disposed of are shredded on board our mobile shredding trucks.
Our mobile shredding trucks arrive at the location of the Community Shredding Event, and residents bring their important documents to us for destruction. The same secure and certified destruction method delivered to our many customers on a commercial level is delivered to residents on a community level. It's an event that brings people together to learn about information security, the importance of document destruction and all proceeds go to a local school or charity.
So what's in it for us, you ask? The answer is simple. By delivering, Community Shredding Events we increase the knowledge of identity theft, making our communities safer places to live. We also believe that supporting our community generates goodwill with potential new clients and strengthens existing customer relationships.
If you would like to partner with us for a Community Shredding Event please contact our office.
Phone: 02 4957 9903
Fax: 02 4957 9905